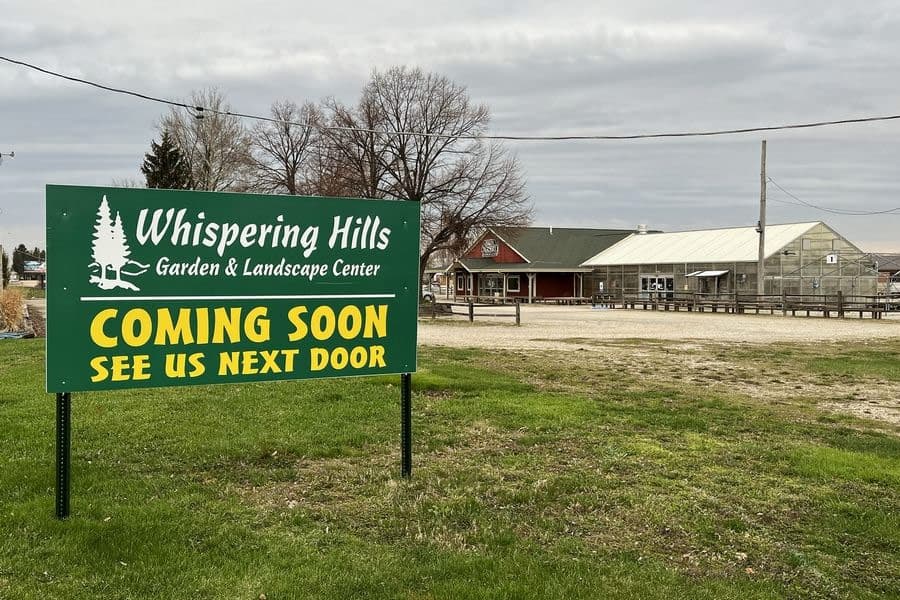 Coming in Spring 2023: In order to expand operations and better suit the needs of our loyal customers, we will be moving to our newly purchased property at 8109 IL Route 31 in Cary. This property is situated only one lot to the north of our current location, and we will still be providing the same products and services we have for the last 30 years. To learn more about our new location, please read the article below. We are excited to embark on this journey, and we look forward to seeing you there!
Whispering Hills Garden and Landscape Center recently announced a massive expansion of operations, allowing the McHenry County mainstay of over 30 years to better serve customers with the exceptional service and high quality materials that they expect.
Through the purchase of The Barn Nursery's recently retired retail operation, Whispering Hills will be adding over 8 more acres to an already 15 plus acre offering. The area's highest quality selection of trees, shrubs, annuals, perennials, bulk mulch, bulk stone, bulk soil products and more will now be available in an even greater offering than before.
Along with the addition of acreage, Whispering Hills will be inheriting The Barn Nursery's retail storefront.
This means added amenities such as a walkable indoor greenhouse, a showroom that is larger than current, and more room outdoors for the unique finds that Whispering Hills has become known for. The Barn's established retail building will become Whispering Hills' new unified retail center, an upgrade from the businesses' current storefront.
Whispering Hills feels that the move to the Barn's property at the corner of Route 31 and Rakow Road will garner more exposure, and ultimately allow them to grow their loyal customer base for years to come. With the two properties connected, traffic flow will be easier from North and Southbound Route 31.
As explained by Whispering Hills' owners, "this is the culmination of several years of planning and decades of hard work. With the expansion, we will continue to place an emphasis on customer care for both our retail and wholesale customers; providing the highest quality products we can find and forging meaningful personal relationships. We will always offer the exceptional service we are known for, and are excited for our customers to experience the benefits of an almost doubled in size Whispering Hills Garden and Landscape Center."
Whispering Hills will also now be able to begin offering seasonally relevant selections like home decor and Christmas tree sales during the winter months. Additionally, there will be more opportunities for events and festivals on site. The space will allow Whispering Hills to further go above and beyond as the one stop shop for everything a landscape or garden needs.
Being neighbors for a number of years, the two businesses have maintained a great relationship, which ultimately allowed the deal to become a reality. Whispering Hills has always admired and respected the way the Barn ran itself, and are eager to meet the Barn's existing retail customers with the top notch service they have already grown to know.
"After over 40 years of operating a retail garden center and large landscape design and installation business, The Barn is returning to their passion; landscape architecture. The Barn's new corporate brand aligns with their core focus on creating timeless outdoor living spaces and their commitment to excellence, modern design and craftsmanship."
The Barn is led by owner Tom Kusmerz Jr. and the team includes most of their long-term team members. Watch for their trucks with the updated logo and name: The Barn: Landscape + Architecture.
This news comes alongside a newly planted tree farm at Whispering Hills that will be growing unique and mainstay varieties of maple, crabapple, oak, cypress, birch, ginkgo, serviceberry and lilac. This tree farm will help Whispering Hills Garden and Landscape Center better serve its clientele with stock that is becoming harder to find with supply chain shortages.
Whispering Hills Garden and Landscape Center is a full-service landscape center and nursery located in Crystal Lake, Illinois. See us today for all your landscaping needs, visit www.whisperinghillsnursery.com for more information, or follow @whisperinghillsgardencenter on Instagram.
Original article can be found on the Daily Herald here.